Angeles A-gogo bar
VOLVO KTV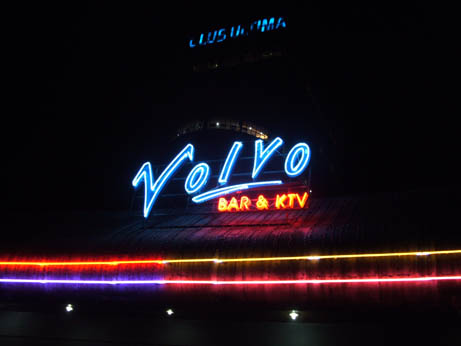 The alluring light of Volvo KTV
Volvo KTV
F. Ramos Street
Cebu City, Philippines


Updated August 2010:
This club is in the heart of the city of Cebu, located just around the corner from Osmena Cicle and a couple doors down from the Midtown Hotel. Volvo KTV is a low end KTV club, with high end prices. The club features younger models, that dance on stage, some naked. The club charges an entrance fee, of usually 200p to keep the rif-raf out. It's an unusual club, as the seating isn't very comfortable, and the club is kind of old and worn out.

The stage is located right in the center of the club, with pillars blocking views from certain angles. A good place to view the dancers is on the right side of the club, from the stand alone chairs where the views are un-obstructed. Where you'll find girls approaching you at other Bikini bars, Volvo Dancers don't approach the customers. You have to approach them. Once you decide to buy them a drink, they are your companion and will cuddle up next to you as long as you keep buying them drinks.

The club has KTV rooms, private, to the back of the club down a hallway. You can go to a KTV to get more privacy with your girl. The costs for drinks are fairly priced, compared to the other clubs in the area. This is by no means an upscale club. It's owned by the same owners of Infinity KTV and Love City , but it's not the same quality as Infinity. The girls here are younger, more 18 and 19, then the traditional KTV bars where you'll find lots of 20 thru 24 year old babes. So, maybe this is a training place for Infinity KTV bargirls.

We cannot recommend this club, as the club itself lacks the intensity and comfort level of the other clubs. Plus, with the 200p entrance fee, they are extorting 200p out of you before you even decide whether you like the club or not. Friday's and Saturday's would be the nights to go here, as their dancers are pretty hot, but any other night, it's not worth the entrance fee.
Philippine sex Club