Angeles A-gogo bar
Silver Dollar Bikini Bar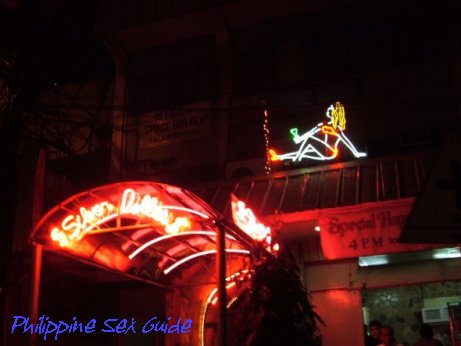 Silver Dollar Bar
Jones Avenue Near (Fuente Osmena Circle)
Cebu City, Philippines

website: https://www.facebook.com/silverdollarbar.cebu
Updated February 2017:
If your thing is a cheap drinking bar with lots of Filipina Bargirls, then the Silver Dollar Bar is the place for you. This classic old time bar is located right in the heart of Cebu City, just a step away from Fuente Osmena Blvd - the center of Cebu. Silver Dollar Bar recently changed ownership, and with that a new look to the sign out front. It's a larger sign with blue neon, that you cannot miss.

The bar is a slender long bar, with a dancing stage behind the bar on the right, and some raised seating along the left hand side of the bar. This allows you to either pull up a stool at the bar, or sit back from a few feet back and admire the bargirls on stage. If you like playing pool, there is a pool table to the back of the club.

The club does serve food, but it's probably better to just take a walk outside and walk into any number of close by places to eat. The drinks at the Silver Dollar are cheap, especially during happy hour - which last from 12:00pm to 9:00pm. The quality of bargirls ranges from 5's to 7's with an occasional 8 that may grace the bar. These seem to be older more experienced girls, that maybe once were hot years ago, but now are just struggling to make a living. Nonetheless, the girls don't give you any attitude, and that's make's your visits a more positive experience.

The only problem with this club, is that the Mamasan's and owner have the bargirls and GRO's attack you for drinks. It's not uncommon for 5 girls to surround you - asking your name and then asking for a drink. If you make eye contact with a girl, you better be prepared for the ever so frequent "Hello Sir, What is you name?" Other than that, Silver Dollar is a great place to unwind after a long day and have a few beers before doing some serious bargirl hunting elsewhere.
Philippine sex Club