Angeles A-gogo bar
Pump Disco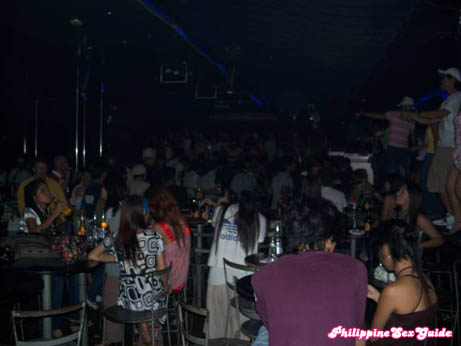 Late night at the Pump Disco in Lahug, Cebu City . Lots of hot Filipina's there for a good time dancing!
Pump Disco
Jones Avenue
Cebu City, Philippines


Updated February 2009:
Pump Disco is one of the top places to go after hours if you want to keep on partying. If you're not into Girly Bars, and you want to got out and meet hot Filipina women, than this is one of the places to go. As Juliana Club, near Mango Avenue, cators to Filipino's and westerners, Pump Disco cators to lots and lots of Koreans. It must be owned by a Korean, as the place is loaded with Koreans on any given night. The club really has a lot of energy, and it really gets rocking in the wee hours of the morning. The club actually closes around 5:00am, which gives you late night folks a place to party until the morning. Make sure, when you go there, you wear socks, as they won't let you in wearing sandals.

There are tons of free lancers at this club, looking for a foreigner to buy drinks and possibly take back to the hotel room for fun. There are lots of bars girls from the clubs that show up late at night, 3:00am, for dancing and the hopes of meeting a foreigner for some after hours cash. If you are into Ladyboys, this is one of the places you'll find them. Most sit up near the bar. Don't make eye contact with them, or you'll be in trouble – they'll smile and come over and say hi.

All in all, Pump, is a great after hours clubs, with lots of entertainment, hip grinding music, and lots of beautiful Filipina's there for the taking.
Philippine sex Club