Angeles A-gogo bar
Sisters Bikini Bar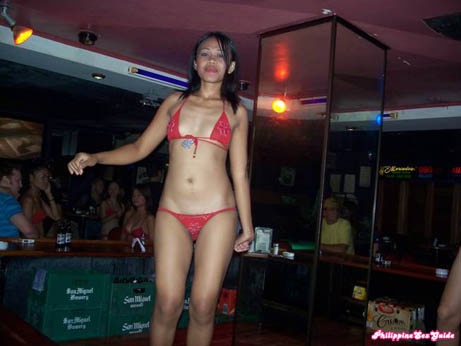 One of the beautiful dancers at Sisters Bikini Bar
Sisters Bikini Bar
Mango Avenue
Cebu City, Philippines


Updated February 2017:
As of February 2017, this bar still remains a staple on Mango Avenue in Cebu, Philippines. Sisters is a small sized bar with 30 plus bar girls working there on any given evening. As you make your way through the curtains you'll pass by the small bar on the right, as pretty much everyone stares at you as you enter. Don't worry, just grab a drink, sit down in a place to get a view of the dancers and chill. Sooner or later a mamasan will come up to make "chicka chicka" with you, and she'll ask you the standard questions all the Mamasans ask. "Where are you from sir? May I know your name Sir? Are you looking for a friend tonight sir?"
The club sits directly across from Love City, a well known KTV/GOGO bar that is a bit more upscale. At Sisters you'll find average looking bar girls, with usually one or two better looking women there. The well lit side of the street is the side where Love City is on, as the other side is bit darker, where Sisters sits. However, the difference between the two, is your difference between Asian Style clubs and American/European style clubs. Sisters is a European Style bar, cheap beer and cheap women. Across the street at Love City, you'll find lots of Asian men, paying upwards of 4000p to barfine a girl for the night.
Philippine Sex Sites