Angeles A-gogo bar
Finland Massage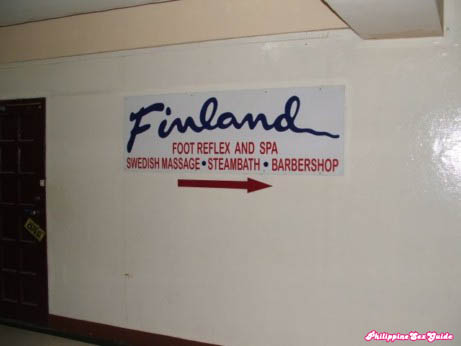 Finland Massage
Colon Street
Cebu City, Philippines


Updated February 2009:
This massage parlor is very much like the massage parlors you'll find in Manila or Thailand. Finland Massage is located in downtown Colon (oldest part of Cebu City ) on the 3rd floor of a building just off of Osmena Blvd. It's not very easy to find, but most cab drivers are willing to take you there, because it's all the way across town and there's lots of traffic. Anything to make a buck. This 24 hour massage place located in the heart of Colon, Cebu has had some decent reviews by customers. When we went to see it for ourselves, nothing impressed us with this operation.

The massage parlor is located on the 3rd floor of a desolate building just off Osmena Boulevard in downtown Colon. As you walk in there is a desk where a couple of Mamasan's sit asking you what you would like. To the left as you walk in is a window covered with blinds. When you ask to see the girl, the blinds come open, and there sits about 30 to 40 filipina ladies ranging from 20 years old to 50 years sitting waiting to give a massage. The massage at Finland Massage is 700p plus a tip for the massage girl. We would guess that some of the women behind the window actually were there for non-erotic massage, and probably gave great massage. Most of the girls there were probably there for erotic massage which entails a ½ hour of rubbing, and then the rest of erotic sexual fun.
Philippine sex Club