Angeles A-gogo bar
Gold Finger Bar and KTV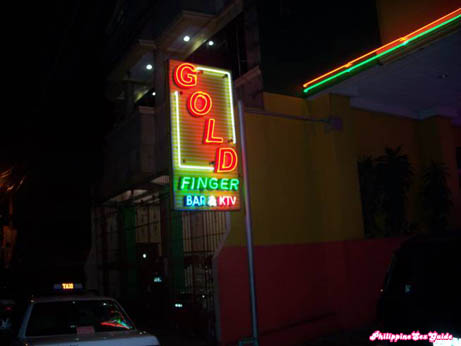 Gold Finger Bar and KTV
Mindaue
Cebu City, Philippines


Updated August 2010:
Mindaue is a city that stis north of downtown Cebu, right across the bridges from Mactan Island . For those tourists or businessmen staying on Mactan, these clubs offer a good option for those not wanting to take the 30 to 40 minute drive into the heart of Cebu to find pussy. If you're staying in Cebu City , these clubs can be fun and can provide a break from the regular Bikini Bar scene of Cebu City . Case in point, take Gold Fingers KTV. This club is owned by the same owners of Love City KTV, Infinity KTV and Volvo KTV. The club is a very simple setup, with about 50 girls on any given night, a stage and an average environment to sit and watch the girls.

As you walk into the club, you'll head down a hall way into a larger room that opens up to the right. There you'll see the stage, and a bar near the back right side of the room. In the back of the club, they have 10 or 12 private KTV rooms, which are air conditioned with nice leather seating. Two or three bargirls will dance on stage at a time and they wear numbers on their uniforms. If you like a girl you can have her sit down with you for a drink. If you really like a girl, you can do one of two things, barfine her for about 5000p or take her to the back KTV room to get a little more intimate. The backrooms cost 1500p usually, which includes you and the girl alone signing KTV. If you want to left completely alone, then you'll have to pay around 4000p, which allows you more privacy for the fun things you can do with your girl in the back.

This club has some really nice looking talent. It's very expensive, on the high end, and the KTV rooms are nice. If you're up for a $200 evening, then this is a great place to find a hot looking bargirl.
Philippine sex Club
My Babe Cams
Mybabecams is a Philippine Webcam site that provides LOW COST camgirls, some as low as .49 per minute. Whats great about the site, is that they even offer 10% bonuses on sales Monday thru Thursday. That means, if you buy time, you'll get an extra 10% of time added to your account. The camgirls are beautiful, with many of the same models you'll see on the other sites, although much cheaper here.