Angeles A-gogo bar
Club Harem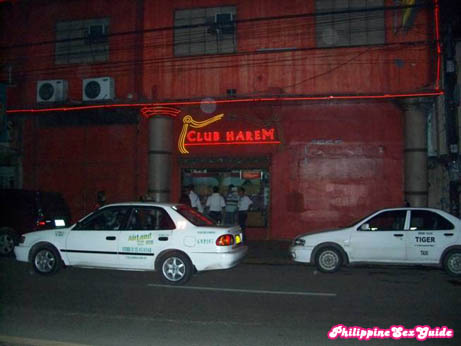 Club Harem
Mindaue
Cebu City, Philippines


Updated January 2017:
Club Harem is a highly talked about club that is located in the Mindaue area of Cebu . Club Harem and its rivals like Gold Finger KTV is right across the bridge from Mactan Island. Club Harem attracts a mainly Filipino crowd, but also attracts the Japanese and Koreans as well. The club is actually a nice club, although the outside sign and building doesnt look like much. You will walk up some stairs to get to the 2nd floor and youll walk into really nice bar, with catwalks, and lots of private KTV rooms.

The Girls fo the club, about 30 to 40 on any given night, will dancing one-by-one on the stage, in the center of the club. Another lady will dance up on the bar to the left of the club entrance. This gives you a peak at the talent, before you decide to table a girl for drink, or to go to the back KTV rooms for more privacy. The barfine is 4000p if you want to take a lady out. The drinks are expensive both for the ladies and your own drinks. The talent at the club is pretty good, with more robust, Filipina style women with large boobs and large hips. You wont find too many tiny 18 year olds in this club.

For the most part, the action is good, the quality of the women are 7s and 8s and the KTV rooms are comfortable and fun to go into. You will have a great time in this club, if you buy your girl a drink and take care of her while your there. The backrooms are 1500p consumable, so you dont pay for any drinks, except the ladies drink to spend time alone with your favorite gal.
Philippine sex Club