Angeles A-gogo bar
Lonestar Saloon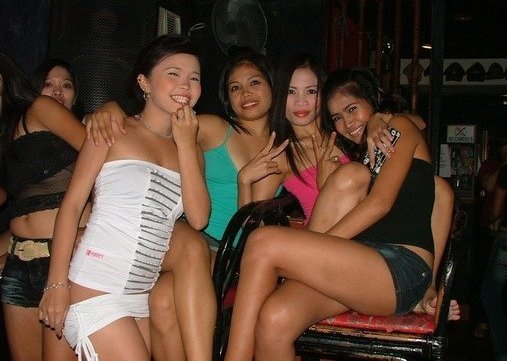 Two bargirls working at the Lonestar Saloon in Cebu , Phililppines where you can always have a good time.
Lonestar Saloon
Mango Avenue
Cebu City, Philippines


Updated March 2011:
For the past five years, the Philippine Sex Guide has frequented this club on our trips to Cebu. Lonestar is one of the best Bikini Bars in Cebu, offering very reasonable drink prices and great barfine prices. The drink and barfine prices are unbeatable in this city. The club is located on Queens Road, one street north of General Maxilom Avenue. If you are familiar with Fuente Osmena Cirle, the club is perhaps two blocks from here.

The bar doesn't look like much on the outside, but on the inside, it's a lot of fun. The club has a dance stage with poles and mirrors that provide ample light to see the girls dancing on stage. The club is always busy, with mainly white tourists. People usually pack the front seats of the bar, so they can get a good view of the club. Othewise, there is seating around the stage. Pool tables are located in the back area if you like pool.

The bar seems like it is always bussling with activity. The bar is filled with young ladies, average looks 6's, 7's and a few 8's. The stage is always filled with sexy Filipina dancers grinding and trying to make eye contact with the customers. The Bargirls are always bugging you to buy them a drink.

We've noticed over the past few years the barfine prices keep getting hire. However, we've heard the barfine is normally 700p. The bargirls get 500p of that, and the club gets the other 200p. An older friend of ours took a girl out for 2700p. Another buddy of ours took a girl out of the bar for 1700p. It seems the younger and better looking you are, the less you will pay for your date. Older and fat foreigners, expeect to pay 1500p upwards, which includes the barfine and tip. We suggest if the girls says, 2700p or 1700p, you say, "I'll give you 1000p" for long time" and then see what she says. Most likely she'll say ""Ok". These girls need the money!

We suggest you stop by here to check out the action, as the club really is a lot of fun. The drinks are reasonably priced, and they have good music playing on the inside. The club has some rooms upstairs, where you can take a girl for short time. To take a girl upstairs for short time if you want to do the old, party, fuck, party, fuck routine, until your Viagra runs out.

We suggest stopping by this club for some great fun and a great time when you're in Cebu .


Philippine sex Club