Angeles A-gogo bar
Club Star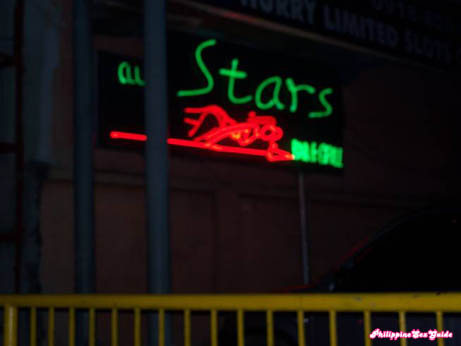 Club Star
Mango Avenue
Cebu City, Philippines


Updated March 2011:
Club Star is a small hole in the wall bar located behind the Dimples, Love City and Papillion Complex of bars. You'll see the club as you walk to the left side of the complex. Just walk along the left side of the building and you'll see the CLUB STAR light above the entrance.

For all intents and purposes, this club is a drinking mans' club. More likely, it's a drinking man's pub for someone wanting to feel really shitty. The last time inside the bar, wasn't a great experience. There were a bunch of 5's and 6's patrolling the club floors. You get welcomed when you enter, as I would guess there isn't too much foot traffic in that back area near the club entrance.

The club is not really a relaxing place to unwind. It's for those who want to hear some hard rock and roll music and co-mingle with wild Filipina bargirls. The atmosphere is really lacking, as there were no customers, and perhaps 15 to 20 Bikini Bar Girls. This is one of those bars you will just walk in and then walk back out. There is not much here to see.


Philippine sex Club