Angeles A-gogo bar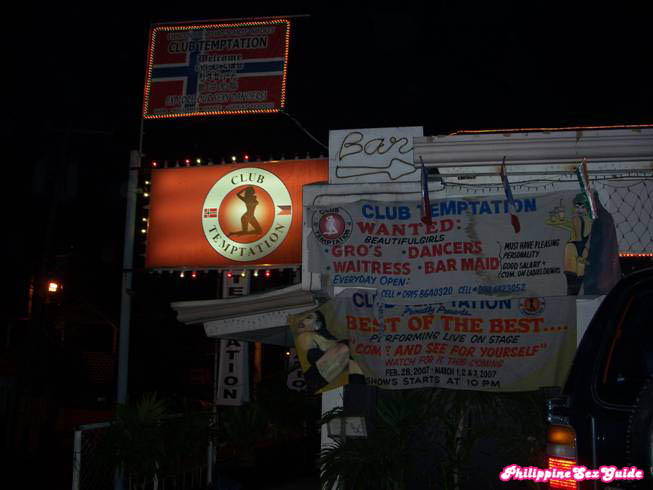 Still one of the best bars in all of Cebu, Philippines is Club Temptation
Club Temptation
#433 D. Jacosalem St., Corner Mango Avenue,
Cebu City 6000
Philippines

website: www.ClubTemptation.com
Updated: June 2012
When on sex tour in Cebu, Philippines, my trip is never complete without a night or two spent down at Club Temptation. One of the hotter bars in the entire downtown Cebu area, Club Temptation is a foreign owned bar with an emphasis on wild hot bargirls that love to party and have fun.

Finding the bar can be quite a challenge, as it is in the nearby proximity of the other Mango Avenue bars (Papillon, Love City, etc...). The club is located just off Mango Avenue on Jacosalem street. Jacosalem is at the east end of the Mango Bar area. There is a gasoline station on the south side of the street. If you turn right at the gasoline station, you'll walk about 100 meters to the bar. If you are driving in Cebu, the club has a nice wide open parking space, which is nice compared to most other KTV clubs and bars in Cebu.

On any given evening, there are between 40 to 50 attractive dancers (bargirls,gro's) there on stage. They are there to mix and mingle with customers. Don't be shy, as these girls will snuggle right up to you and start making chika chicka once you buy them a ladies drinks. The club has plenty of mamasans to discuss price and options, and a handful of waiters and waitresses to take care of your drink or food orders. It's one of the largest bikini bars in Cebu, and you will love the action inside.

The club itself is very clean, well lit, and has two rooms. The main room, where you enter has the stage and bar. It has tons of mirrors, which is great to see all angles of the girls on stage. There are a bunch of red comfortable couches where you can sit and watch, or get comfortable with a sexy bargirl. The backroom splits the bar in two, and has a couple pool tables in the back, and another area where you can get comfortable with the girls.

The club opens at 7:00pm with happy hour from 7:00pm to 9:00pm. You can get a beer for only 60p and a ladies drink will set you back only 150p. The prices are pretty much inline with the other clubs in the area. Barfines are only 1700p and the girls do expect tips for services rendered back at your hotel room or at short time hotel rooms.

All in all, we highly recommend this club. The quality of bargirls, the energy and fun time, and the bar itself, (safe, clean and well lit) make this a great place to meet a girl and have fun during your nights out in Cebu.
Free Filipina Sites