Angeles A-gogo bar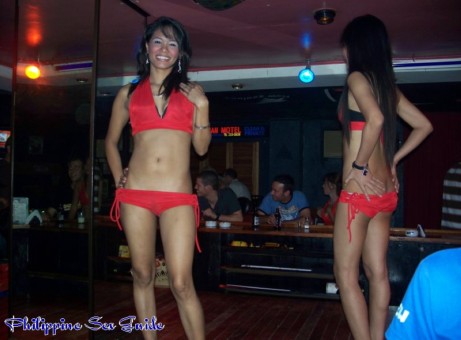 Liza's Sea Fun Pub
B.B. Cabahug Street Mandaue
Cebu City, Philippines
Updated September 2010:
One of the most laid back and relaxed places in all of Cebu is Lisa's Sea Fun Pub. If you are able to find the place, then your trips to Cebu will be filled with visits to this club. The Sea Fun Pub is a small off the road bar that seems more like a drinking establishment then a Bikini bar. Don't worry, there is pussy abound here, all with great attitudes, and a fantastic place to drink and meet sexy girls.

The club is located off a side road of B.B. Cabahug Street in Mandaue, Cebu. Don't expect most Cebu Taxi Drivers to find the club. Most of them don't know of it, or they know where it is, but want to take you to another club to get a cut from the owners for bringing you. So, it's hit or miss if you can find the place, but once you do, you'll have a great time.

As in the name of the club, the club has a Sea Fairing look and feel to it. You'll usually find 30 or so sexy Filipino women, all experienced and ready for some FUN. The club is medium sized, with lots of chairs and tables, and a small l shaped bar that you can sit at. The drinks are dirt cheap, and the girls are fun and pretty.

The best part of this club are the Private KTV rooms located across the street from the bar. If you don't want to take a girl back to your hotel room, you can have some private moments together in the Private rooms. The KTV rooms all have a couch, a bathroom and a KTV system. The rooms are only 750p and you can take a girl there for the night and have your way with her. It's way better than spending 4000p over at clubs like Gold Finger KTV and Harem KTV.
Philippine sex Club