Angeles A-gogo bar
Infinity KTV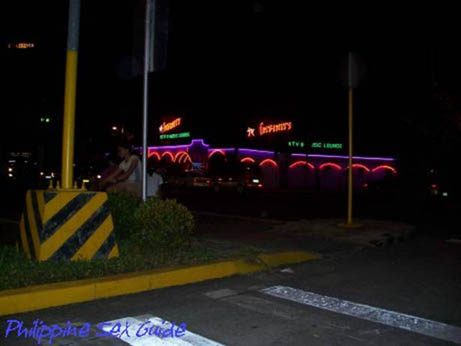 The Infinity KTV across the street from Ayala Center Mall
Infinity KTV
Arch Bishop Reyes Avenue
Across the street from Ayala Center Mall
Cebu City, Philippines


Updated February 2009:
Infinity KTV is one of the nicer KTV bars in Cebu, Philippines. One of the great things about Infinity KTV is that it sits in the business district of Lahug, in a very safe and secure area. Right across the stree is the Ayala Center mall, and very close by most of the 4 star business hotels of Cebu. If you are looking for a nice place to sing karaoke and meet some wild GRO's for a fun evening then this is the place.

Infinity usually opens around 9:00pm every night, and has around 40 to 50 gorgeous Pinay models at any given time. There are no barfines at the club, but you can privately arrange to meet one of the girls after hours at your hotel. Most of the customer who enter this club are Filipino or Japanese. These guys go right for the back rooms, where a Mamasan will bring the girls back in groups for you to choose from. Once you choose a girl, the cost is 1500p for the room, and you'll need to buy ladies drinks every 30 minutes or so. Once you're in the backroom, anything can happen. Usually 2000p tip for the model for services rendered.

At the entrance of the bar is the Bar itself, and then as you enter to the left, the common room is open with comfortable couches, with tables. The GRO's or bargirls sit along the right and in the back of the common room, if they are not in the Private rooms with a customer. You can turn around and look at the girls, and pick one, but it's kind of nerve racking, because they are all looking at you. A good way to not feel so uncomfortable, is to sit at the bar when you enter, and then get some views of the girls. They have numbers on them, so you just ask the Mamasan to sit down and bring over the model you like.

This is probably the nicest club of all the clubs owned by this company. The same owners of Infinity also own Gold Fingers in Mindaue, Love City and Volvo KTV downtown Cebu. The girls here are classy, fun and elegant to be with. Most of the girls are quite intelligent, because they speak multiple languages to engage in conversation with Japanes and Chinese tourists. Stop by next time as we highly recommend this bar for a nice relaxing time.
Philippine sex Club