Makati A-gogo bar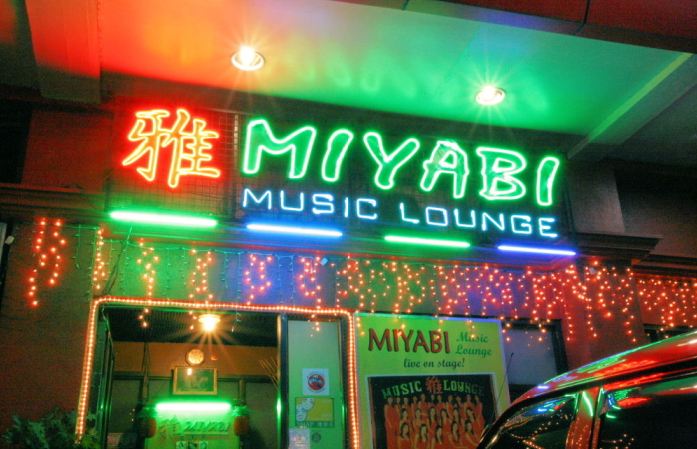 Miyaba Music Lounge & KTV
#2120 A Mabini Street
Malate, Metro Manila

http://miyabi-musiclounge.com/top.html
Updated Febuary 2011:
If you're looking for a high end fun KTV bar featuring some gorgeous full figured GRO's to wait on you, then the Miyabi Music Lounge is the KTV for you. Miyabi is located on Mabini Street in Manila in the heart of the KTV club area. You will find dozens of clubs here, and a couple blocks over on Roxas Blvd. The Mabini Clubs, like Miyabi all go on a SYSTEM approach to costs at the club. The costs at Miyabi include a 500p fee upon entrance which includes all of your drinks for the first hour and half. For each additional hour you are there the club will charge you 300p for your drinks. That's not so bad, if you can drink a beer ever 20 minutes or so. If you are into hard liquor, that's a pretty good price, but most of the top shelf drinks will cost you extra.

KTV bars usually hire only attractive, more fuller figured Filipino models to work the clubs. You won't find province girls with all kinds of tatoos at clubs like these. These are models who have trained to go to Japan to work in the clubs, or are girls pampered for these type jobs. The girls here will speak fluent English and most like some Japanese, Korean or Chinese to engage in conversation with customers.

The club interior is so-so, with black and white checkered dance floor sitting near the stage area. The stage and floor, when not being used for KTV singing, will be used by dance groups (usually the GRO's) in staged dance productions.

To table a GRO (have a model sit down with you) will only cost you ladies drinks. This is a great way to meet some beautiful girls while in the Philippines. If you strike it up with one of these babes, they may be interested in coming back to your hotel later after they get off work. The club is open from 7:00pm to 2:00am - M thru Sunday. The quality of the models is top notch, and it's a good place to have some fun. Check out Miyabi on your next trip to Manila.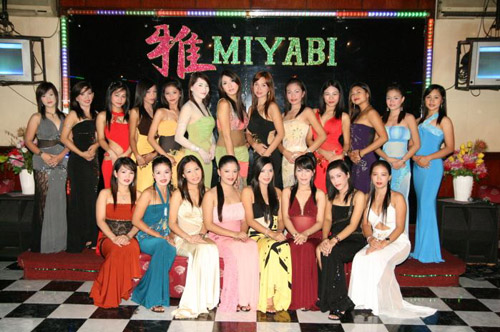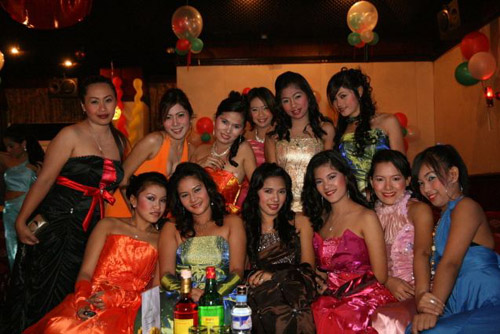 Philippine sex Club