Makati A-gogo bar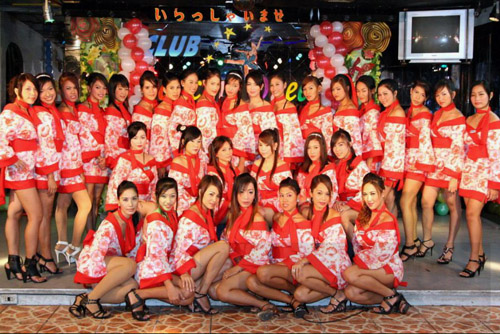 Club Dancing Queen KTV
#2120 A Mabini Street
Malate, Metro Manila

website: http://www.club-dancingqueen.net/en/top.html
Updated Febuary 2011:
As you can see by the picture, KTV clubs can be filled with gorgeous Filipina girls. Just stop by the Club Dancing Queen KTV Bar in Manila on any given night and this is what you will find. A great alternative to Bikini Bars and A Gogo Clubs is the KTV bar scene in the Philippines. Club Dancing Queen is a great example of a solid KTV bar. Not only does it cator to the gentleman looking to sing the night away, but it also offers a great place to meet gorgeous, well kept Pinay models, and perhaps some sensual moments as well.

Club Dancing Queen is a KTV bar, but the word CLUB seems to fit this place better. Dancing Queen cators to mainly an Asian crowd, mostly Japanese and Koreans, looking for a place to sing Karaoke in front of a crowd, and get cheered on by about 30 or so sexy young Filipina GRO's. The club has a stage, where customers can sing their favorite KTV song. Every 30 minutes or so, a dance group comes out to do a show for the customers.

KTV bars are a bit different than most Bikini Bars. The cost structure is usually alot higher, and the atmosphere and girls are usually a little bit more upscale. At Club Dancing Queen, the club will charge you a set price for your drinks. The first 1-1/2 hour you will be charged 500p - consumable - meaning all you can drink. This usually includes some bar peanuts and snacks to go along with the drinks. You'll be charged 300p per hour thereafter if you stay in the club. During Happy Hour, you are only charge 300p for your first 1-1/2, so it may be better to come earlier than later to meet some girls. However, the cost of your drinks can add up if you spend three or four hours in the club. .

Ladies drinks are pretty straight forward, only costing you 300p per drink. If you want a lady to sit down next to you, that will cost you 500p. The club does have a VIP room where you can get more intimate with your GRO. It's very nice, but the charges start to go up from there.

These clubs are mostly Asian owned and they cator to the wealthy Asian clients, who don't seem to care about cost. Be careful, and make sure you fully understand the cost structure before you start buying ladies drinks, etc... Otherwise, the club is a nice club on the inside, and filled with good looking models. Have fun.
Philippine sex Club