Makati A-gogo bar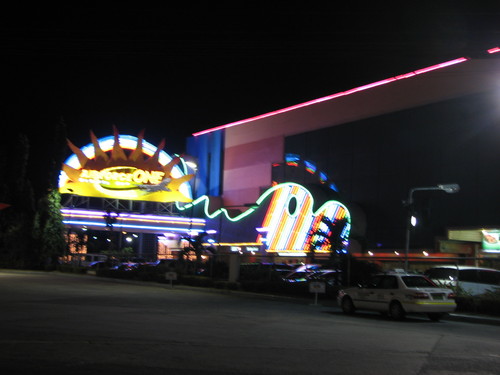 Air Force One Digital KTV
888 Nino Aquino Avenue
Paranaque City, Manila, Philippiness
Updated January 2010:
Located near the Nino Aquino International Airport in Paranaque City, Philippines is Airforce One KTV. No it's not the Presidents Plane, but it's near the airport, convienantly located for customers stopping thru Manila on their way to somewhere else.

The club is a high-end agogo/KTV club with a central dance stage, a GRO viewing area, and private rooms. Compared to other high end KTV bars, this club is the creme-dela-creme of Manila, featuring some of the hottest Philippine models dancing on stage nightly. Beauties like Maui Taylor and Ara Mina have graced the stage before. The club also food and drink, or and of course, LADIES. It's the only reason to go there, as there are more ladies in this club than in most.

You can either watch your models dance on stage. Each model has a number on her, and you can easily tell the waitress which model you want by asking for her number. When the models are not dancing, they are either on the floor chatting with guests, or in a viewing area - window to view all the models.

If you want to table a girl, you have to buy her a ladies drink, which will set you back a 300 to 500 hundred peso's. Specialty shots are priced more - up to a 1000p so be careful. It's not uncommon to walk out of a club like this with a $200 dollar bill just in drinks. There are back private rooms, nicely done and clean with private toilets and sinks. They usually include these because the girls like to clean up before and after any shananagans occur in the back room. The rooms are labled by Presidents names, Kennedy, Washington, etc...

The one thing unique with AF1 is that each room had its own "comfort rooms" with toilets and a sink. It is great for freshening up though sadly it lacked a shower room. The room itself, though relatively small, is comfortable, clean, and cozy. No peeling wallpaper. No worn-out rug.

When asking a girl to the a private room, make sure you ask the Mamasan in advance the cost. There are two types of GRO's, Stadard girls and Centerfold girls. The Centerfolds cost 1300p per hour for the backroom, and any extra service you discuss with the model, is additional.

Located on the premisis upstairs is Flight 168, a massage parlor featuring three different tiers. The tiers are called economy, business and first class - so you can imagine the massage talent that awaits in First Class. It's probably more worth your wild to go upstairs and get a "Happy Moment" at Flight 168, then spend too much money downstairs at Air Force One.

All in all, this is a club you need to check out on your next landing at Manila International Airport.
Philippine sex Club