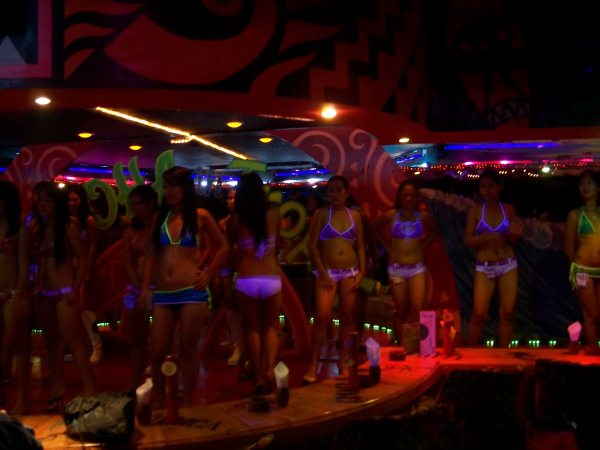 These are the Showgirls of the Tropix Bar performing nightly!

Tropix Bar
Real Street
Balibago, Angeles CityPhilippines

website: http://www.tropix-ac.com/index.php
Tropix Bar is a two year old bar, opened in 2008, that sits on Real Street (a backstreet a block off Fields Avenue). Real Street is actually pretty popular, as the Orchid Inn and a few other foreigner hotels sit along this street, nestled in amongst a number of pretty nice clubs. Tropix sits right next to a club called Crystal Palace and is well worth your time to visit.

One of the best attributes to this club are the girls. Tropix has a great collection of beautiful Filipina bar girls. It is one place you are sure to find a beautiful girlfriend for the night, or perhaps the entire week. The club is one level, with a huge stage on the right side of the club as you walk in. There are more than enough seats in the place, with some nice couches on the back sides of the room.

The girls will line up on stage in groups of about 30 and there are couple shifts of dancers. When the girls are not on stage, they are out in the crowd area hustling drinks from patrons. Don't make eye contact, or the girl will be sitting next to you in a second.

If you like lap dancing, then these girls give "Good Lap". You can take a girl over to the side of the room and get a great lap dance. It will set you back a ladies drink, but that's ok as long as she is working your shaft over in the back of the club.

As you can tell, the Philippine Sex Guide likes this club, and recommends you go there to start your evening off around 8:30pm. You can find a cute bar girl, then take her to some of the other clubs before having some late night sexual fun back at your hotel.