Angeles A-gogo bar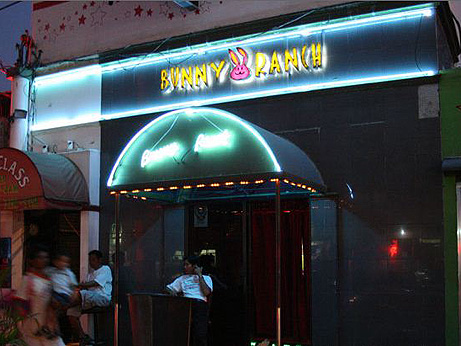 Bunny Ranch
Fields Avenue
Balibago, Angeles City, Philippines

Updated: July 2010



The Bunny Ranch is a small bikini bar located on Fields Avenue on the west side of Fields located between Tedoro and Constantine Streets in Angeles City. If you know the location, the club sits between Coyote Ugly and the Honey Pot on the south side of the street. At this location, the clubs are all lined up on the south side, and there isn't much across the street.

Recently, the club was updated on the interior, making it a much nicer place to play, while in the Philippines. Small Bikini bars like this club, usually offer refuge to the lower priced customers, however, the Bunny Ranch does provide a good selection of hot Filipino bar girls on most nights. If you're into the waitress thing, the club also as some very sexy waitresses you can meet and take home with you as well, if you're in to the waitress thing.

The newer club has the stage now goiung the entire length of the club, with the bar moved to the back of the club. Like most smaller bikini bars like the Bunny Ranch, drink prices are competitive to most of the other bikini bars in the area.

The club opens around 6:00pm and closes around 3:00am. There are any where between 40 to 45 dancers working the club and 5 to 10 waitresses that will serve you. Local drinks will cost you 90p and ladies drinks will set you back only 150p. The barfine for the girls will only cost you 1400p, which is a higher price, but the ladies do get half of the barfine, so tips are welcome, but not expected by the girls.






Philippine sex Club