Angeles City Bars
Crystal Palace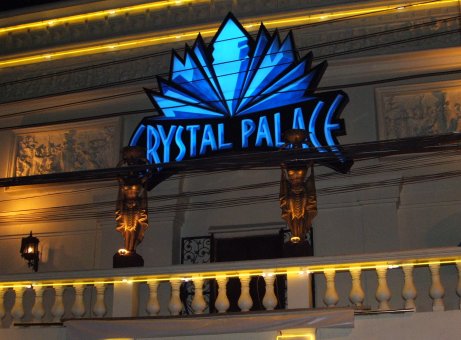 This is the outside entrance of the Crystal Palace.

Crystal Palace
Real Street
Angeles City, Philippines

website: http://www.crystalpalace-ac.com/


One of the hottest clubs in Angeles City, Philippines is the Crystal Palace Bar. This is the sister bar to the Doll House Bar. Where the Doll House Bar is located on Fields Avenue, now called Walking Sreet, the Doll House is actually on Real Street, behind the Dollhouse. These two clubs are among the best bars in Angeles City to meet girls for a barfine. The club itself is two tiered with hundreds of girls on any night. There seems always be hot beautiful Filipina's on stage at any given time of night. When one group of girls gets done dancing, another entirely new group gets up and starts dancing.

The club has a couple levels, as you can sit and drink on comfortable couches on the lower level, or move up to the upper level and look down at the beautiful dancers on stage. There are always 15 to 20 girls also dancing upstairs. If you sit upstairs, it feels like you're at a baseball game, looking down at the talent. The club serves pop corn for free as you drink and scope out the babes you're interested in for the rest of the night.

The club is actually attached to the Dollhouse, via the back of the bar. This makes it easier to jump from one club to another to scope out the talent at two clubs instead of one. If you plan on spending time in Angeles, this place is a must, as it is well air conditioned, has great music and has a nice group of beautiful Pinay bargirls at your beckon call.
Inside the Crystal Palace Bar in Angeles City
Free Filipina Sites