Angeles City Bars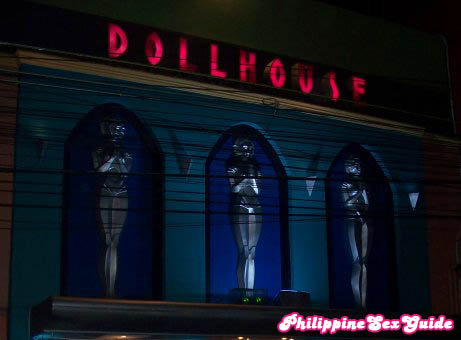 The Dollhouse sits on Field Avenue right in the heart of the action!

The Dollhouse
Fields Avenue
Angeles City, Philippines

website: http://www.dollhouse-bar.com/main.php
One of the largest and best clubs by far in Angeles City, or in the entire Philippines, is the Dollhouse A Go-Go on Fields Avenue in Angeles City, Philippines. The club is best known for operating 24/7 filled with beautiful young Filipina bar girls, dancers and waitresses all wanting to meet a foreigner.

The Dollhouse opened in 2007, and has been a solid top notch club every since inception. It's large, with two levels. The bottom floor has a fully huge circular dance stage, where you will find 40 to 50 bar girls dancing at any given time. Around the raised dance floor are stools where patrons can sit and watch, along with ample seating all around the stage. The upper floor is a balcony that looks over the entire bar. Here you will find pool tables, and dancing girls taking a break.

As mentioned early, the club is opened all day. You can walk into this club at noon time, and there will be girls dancing on stage. Usually you'll find mom's who have kids, but there are some lookers during the afternoons. There is so much pussy in the Philippines, you'll always find something you like. One of the great things about this bar is that they allow you to take pictures of the girls on stage.

The barfines and drinks are pretty reasonable, compared to other cities like Makati, and Cebu. In Angeles City, the common barfine price ranges from 1000p to 1500p. That's about $20 to $30 bucks. You do not have to tip the bargirl, and she'll be yours for all night long. Drink prices are right in line with other bars. If you like the large club atmosphere, and are looking for some hot Philippine pussy, then the Dollhouse is the place for you. It's one of the hottest clubs in the Philippines and a place where you are sure to meet your next barfine.
Inside the Crystal Palace Bar in Angeles City
Philippine sex Club