Angeles A-gogo bar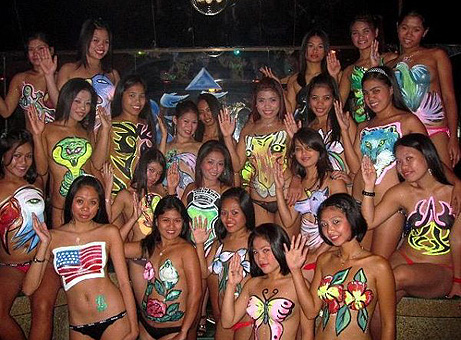 The girls of Lost in Asia.

Lost In Asia Bar
596D Don Juico Avenue (Aka Perimeter Rd.)
Clarkview 2009
Angeles City, Philippines

website: http://www.lostinasia.com/


If you walk all the way down Fields Avenue it will eventually turn into Perimeter Road. Perimeter Road lines the south side of the old Clark Airforce Base, now an economic zone. Down at that end of the road you'll find hotels like the Clarkton, and the American Hotel, way down from the main action of clubs on Fields Avenue (maybe 1/4 to 1/2 a mile). You'll also find the Lost In Asia Bar in this neck of the woods, along side some other Angeles City clubs. Although it's out of the way, it's one of the cheapest bars to drink at, and a great club out of all the crazyness of AC.

The club itself is a small typical bikini bar layout style club with lots of pretty girls. You'll find 30 to 40 dancers working on any given night. Barfines are inline with the current AC prices, and drink prices, as mentioned before, are very competitive if not the lowest in town. This is a great place to drink and have fun watching the girls dance.

When in Angeles City, take a walk down Fields to the West end of town along Perimeter road and check out Lost In Asia Bar. It's worth a look and a great place to sit back, relax and watch the day go buy.
Philippine sex Club