Angeles A-gogo bar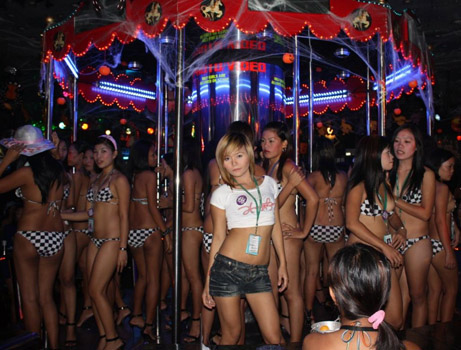 The Carousel Bikini Bar Girls!

Carousel Bikini Bar
Fields Avenue
Angeles City, Philippines

website: http://pashagroup.ph/?page_id=68
Sitting right in the heart of the action on Fields Avenue in Angeles City, Philippines is the Carousel Bikini Bar. If you've been to Pattaya, Thailand, they also have a bar there, in an open air outdoor setting. The Angeles City club is an indoor bar, much nicer, with some real hotties dancing all thru the night. The club is a medium sized club, larger than the old style bikini bars, but smaller than some of the newer large clubs like Dollhouse.

The main attraction is the round rotating stage located in the center of the club where the girls dance. It spins around so you can get a great view of the all the bargirls. There are lots of mirrors, it's dark, but the club lighting provides enough light to make a decent choice. There are seats right around the carousel where you can sit your drink and view at the girls. If you like more comfortable seating, there are leather couches located to the back of the rooms where you can watch and relax in style.

Prices here are very reasonable, with drinks for the ladies at 155p and the drinks for customers at 95p. Barfines are the regular 1000p with lots of hotties to chose from. We highly recommend this club because of the ambiance, the good looking bargirls, and the prices are just right.
Philippine sex Club