Angeles A-gogo bar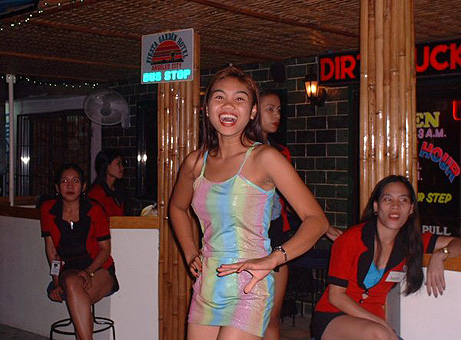 Sexy Door Girl outside of the Dirty Duck Bar in Angeles City, Philippines


Dirty Duck Bar
149 Fields Avenue
Balibago, Angeles City, Philippines

Updated: October 2010

website: http://www.acunderground.ph/
The Famous Dirty Duck bar is still closed down after Philippine Police raided the club a few weeks ago. The Duck was apparently closed in raids two weeks ago, as the bar girls, mamasans and manager were all detained by Angeles City police. In talking to the locals, most thought it would re-open after the matter was sorted out (fines and under the counter money), but the bar still remains closed.

The Dirty Duck is owned by the same owners of the Forbidden City Bar (right across Fields Avenue). The Forbidden City Bar is still open. The Duck was always a great place to relax with your girl and have a drink. Word is a couple of the hot Duck girls are over now at the Forbidden City working.
Updated: July 2010
Open from 4:00pm to 4:00am, the Dirty Duck Bar is a great place to drink, meet girls, and have a great time. The club is a small club, but laid out differently then the other bikini bars you will find on Fields Avenue. It has comfortable seating, great views of the dancers from all angles, and a great bar and music system to enjoy any night in the the city of Angels.

The club was opened in 2007 and sits on the Fields Avenue closer to the McCarther end of town in bewteen many other clubs that sit on the same side of the street. As witnessed by the Philippine Sex Guide, this club has attractive dancers and bargirls working the club. You'll find 50 or so scantilly clad sexy babes, waiting to serve you (in more ways than one).

The club offers great views of Fields Avenue, as you can sit near the front windows and watch all the nightlife pass you by while you drink. It's a great sit down atmosphere and a great place to barfine a lady. 550p will get your lady out of the bar, but most girls want a tip on top of that. All in all, drink prices and barfine price, you wont' find much better. It's a must to visit on your next stay in the Philippines.
Philippine sex Club