Angeles City Bars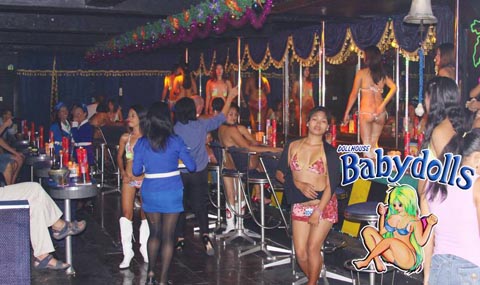 Baby Dolls Bar
Fields Avenue
Angeles City, Philippines

Updated: May 2012

A low cost alternative to the expensive clubs in Angeles City is Baby Dolls. Owned by the same management as the Dollhouse and Atlantis Club, this is a drinking man style bikini bar meant for locals and low cost travellers in Angeles City. .

The club is a throw back to the traditional style bikini bars here in AC, small, and retangular shaped, with a dance stage running the legth of the club from front door to back. There are plenty of bar stools lined up along side the stage/bar, and more comfortable couch seating to the other side of the club.

The club opens daily at 7:00pm and stayes open until 4:00am. It's a drinking man's style bar and the girls are paid for the ladies drinks you buy them. The club has room for about 30 people. Local drinks will cost you 55p, and a ladies drink will only set you back 150p. Barfines at the club cost 1350p for any of the 30 plus girls that work the club.

Baby Dolls Bar in Angeles City
Filipina XXX