Angeles A-gogo bar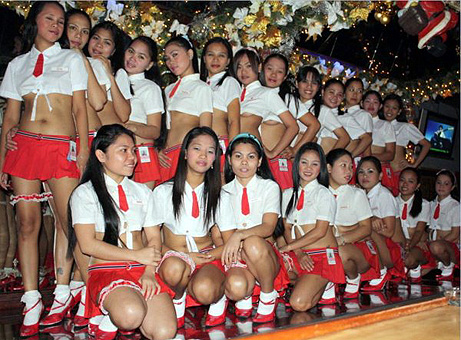 "These are the always sexy and charming Roadhouse Girls"

Gilly's Roadhouse
Fields Avenue
Balibago, Angeles City,
Pampanga, Philippines

Updated June 2010

website:http://www.roadhouseclub.com/
Folks, here is a great drinking bar, complete with bar girls, dancers and great music. Gilly's Roadhouse has been in operation for years now, operating right in the heart of the action on Fields Avenue, in Balibago, Angeles City, Philippines.

Open every day from 6pm to 3am, the club hosts a beautiful selection of sexy dancing girls, all dressed up in their "school coed" style outfits, wanting to make friends with horny foreigners. Happy hour is between 6 to 8 pm, with extended happy hours on Wed and Friday.

The bar is small and friendly, and well lit. It's really a great place to listen to music with friends, before going on your pussy hunt throughout AC. Don't be fooled, there are lots of girls here that will make sure you have a good time as well. Take a look at the GIRL OF THE MONTH section on their website to see all the hot girls from Gilly's past and present.

This is another club that you have to stop by and have a drink. The Thunderstruck Girls perform nightly (dancers on stage) stamping their feet and getting sexy to the music. It's always nice to cum home and tell you buddies you nailed a Thunderstruck girl from Gilly's.
Philippine sex Club