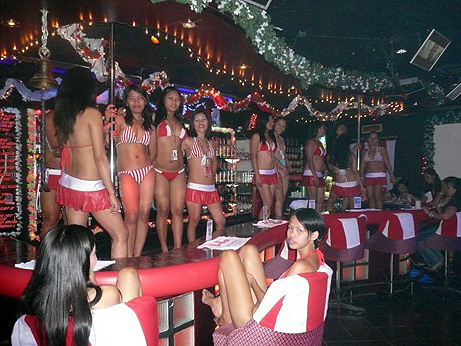 Bar Hoppin on Constantine Street!

Bar Hoppin
Constantine Street
Angeles City, Philippines

website: www.BarHoppin.com/
If you know Angeles City, then you know that some of the side street bars can be fun. They are usually less crowded, and are cheaper, both for alcohol and pussy. The smaller clubs like Bar Hoppin are just the perfect get away from the hustle and bustle of Fields Avenue in full action. Drink prices, ladies drinks and barfines all seem to be cheaper in the smaller clubs. Bar Hoppin is no exception.

Bar Hoppin is located on Constantine Street, just south of Fields Avenue. The Angel Witch club sits on the corner of Fields Avenue and Constantine, and behind it sits the Back Door Bar, Butterfly Rock, Bar Hoppin and Checkers Bar. They are all relatively small clubs, pretty straight forward, with stage, bar, seating and pool tables. The stage/bar is unique, as it is curved, which gives a nice look to the entire bar. The girls dance up on the stage at the bar, while there is ample seating around the club to get some great views.

Bar Hoppin is open at 5:00pm daily and closes around 2:00am. You'll find around 60 or so dancers. A San Miguel Beer will set you back 75p and a ladies drink is a cheap 140p. The barfine is only 1350p.


Sex Tourists having fun at Bar Hopping