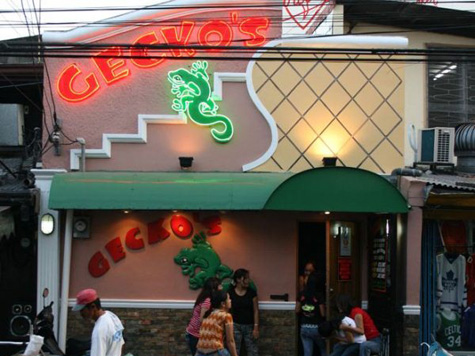 Gecko Bar in Angeles City just before dark

Gecko's Bar
Fields Avenue
Angeles City, Philippines

website: http://www.GeckosAC.ph/
A small but fun club in the heart of the Pussy Action on Fields Avenue in Angeles City, Philippines. Gecko's cators to the drinking man, who likes the small bikini bar club action. You won't find glitze and glamour here. At Gecko's you'll find lots of wild young Filipina ladies looking for a drink and a good time.

Like most small bars, the girls will hound you for drinks. It's best just to grab one girl, get her at your table, and buy only here a drink. Ladies drinks and beers are cheap here, like most smaller bars. You'll get a ladies drink for 120p and well drinks for 50p.

Gecko's does have some talent among it's dancers. Not sure why some bars do better than others, but you'll find some reasonably good looking young dolls gracing the stage and the club. Dancers are in bikini's on the small stage that sits along one side of the bar. There is ample seating. Other girls in blue jeans, also called GRO's, or Guest Relations officers will be walking around the club. These girls usually have their periods, so you may just want to buy a drink, but not barfine.

We suggest you stop by Gecko's as you'll have a good time. Good music, cool air con and some nice looking ladies help this club out. You cannot go wrong on price either. Barfines are standard 1000p and that usually includes the tips as well.
A Night Out At Gecko's in Angeles