Angeles City Bars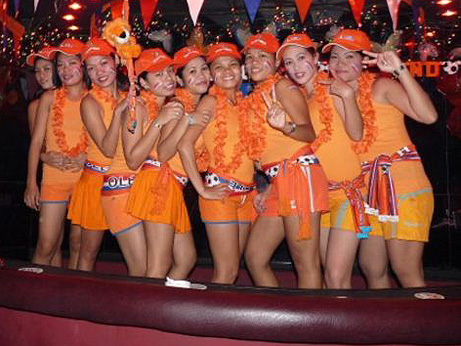 Butterfly Rock Bar
Constantine Street
Angeles City, Philippines

Updated November 2011

Just off the corner of Fields Avenue you'll find the Butterfly Rock Bar located on Constantine Street in Balibago, Angeles City, Philippines. This little club has been open for a few years, providing that small bar atmosphere, with pretty dancers and bar girls, and great drink prices. If you're travelling down Fields Avenue, the club is located a couple buildings behind the Angel Witch bar.

Butterfly Rock is a very small club, with very low drink prices, lady drink prices and bar fine prices. It's one of those cheap charlie bars that attracts the expats living in the Philippines on a fixed income. You can get a beer for only 65p, one of the lowest prices we know of, and a ladies drink will set you back 120p. Barfines here are great, at a very low price of 1200p. You won't find much cheaper in this town.

The club has around 20 to 30 dancers/bar girls that take turns dancing on stage. The club is a great place to party, have a few beers, and then seek out other places to find girls. It's a side door style bar, with a pool table, stage, and bar located all in the very small club. Great atmosphere, sound, and air conditioning. All in all, it's a nice little bar to stop by and visit for a drink.

The club opens up 6:00pm and closes down at 3:00am. There is a Happy Hour here from 6:00pm to 8:00pm and drink prices get very low during these hours. Great bar hop style put to get a good base of cheap drinks before moving on for your catch.

Christmas at the Butterfly Rock 2010
Filipina XXX