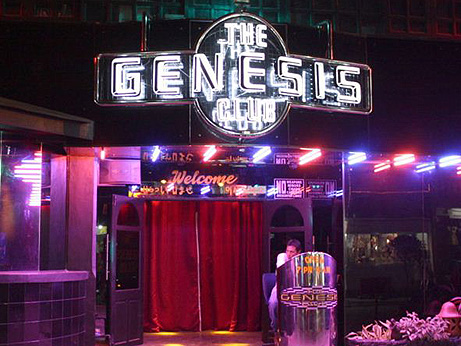 Late Night Outside the Genesis Club!

Genesis Club
Fields Avenue
Angeles City, Philippines

website: http://www.GenesisClub.ph/
The Genesis Club was open in August of 2009. The club is under German management, owned and operated by the Pasha Group. This hot AC Bar has 120 dancers and 35 waitresses and will make your job finding a piece of ass in Angeles City alot easier. The club is open from 7pm to 4 am which gives you more than enough time to play, drink, interact and meet a gorgeous girl, while enjoying great music and live entertainment on stage. The club provides food from it's wholely owned BISTRO catering snacks, pizz and pasta. Drinks are right in line as bargirl drinks or ladies drinks are 140p and customer drinks 95 peso (a little high). Pashagroup offers a 5000p package which gives you your drinks for a period of 2 years in any of their five clubs. That's not a bad deal considering $100 bucks for drinking all year round. There is a giant danceloor in the center of the bar, with four smaller dancefloors at the side. This makes it very easy to get in touch with the girls. There is an open doorway in the back of the Genesis Club that leads to the Fantasy Club to accommodate an easy entrance between the bars. Another great thing about the Genesis Club is the sexy Tequila Girls. If you want, these hotties will allow you to do a shot off their tits, and probably a whole lot more back at the hotel room. Stop by the Genesis Club, one of the newer clubs in AC and a club that is sure to please you on your quest for bargirl pussy.


A Night Out in the Genesis Club