Angeles City Bars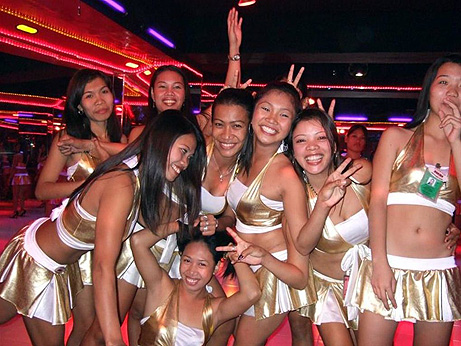 Mirrors Club
620 Don Juico Ave.
Clarkview, Balibago, Angeles City

Updated: November 2011
If you're interested in going from bar to hotel room really quick with your bargirl, than Mirrors Club located inside the Clarkton Hotel is the place for you. Located on Don Juico Avenue or Perimeter Road as it is called, you'll find the Clarkton Hotel and Mirrors Club way at the West End of all the area clubs. The road outside the Clarkton is called Perimeter Road, because it sits right on the fence line of the old Clark Airforce Base - now the Economic Zone. There is nothing across the street from these clubs, except the fence to the Clark Economic Zone (the old Clark Airforce Base).

The club itself is pretty impressive, offering around 80 girls for live entertainment from 3:00pm to 3:00am daily. As you enter the bar, the dance stage will be to the left side and the bar back to the right. There are couches placed right down close to the stage, and bar stool style seating and tables further in the back. Let's face it, you're coming in there to watch the girls and drink, so the seating is well done. The drink prices are perfect for a hotel bar, offering San Miguel Beers for 75p and ladies drinks for only 125p. Barfines for the girls are 1350p.

They have a dance performance called the Lady Roundup, that comes on every hour or so to provide some dance entertainment. For a small club, it works well. If you're looking for an "out of the way" place to stay, complete with a bar and bar girls, then the Clarkton Hotel and the Mirrors Bar are for you.
Fun inside Mirrors Club in the Clarkton Hotel
Filipina Porn