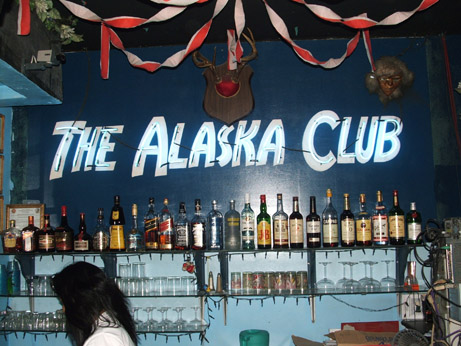 Alaska Club
Fields Avenue
Angeles City, Philippines

Updated: May 2012

The Alaska Club is a run down small bikini bar on the other end of Fields Avenue away from the hustle and bustle of the larger bars like Dollhouse. The club is a throw back bar, meaning, it's a bar that old timers would love to come in, drink, chat with the girls and get drunk. The layout isn't that appealing, and the interior has much to be desired.

We walked in on a Wednesday night for a drink, and found 2 or 3 Filipina dancers on stage. Here's a pic on their blog site of what to expect - SEE BLOG . The club wasn't that packed, however the music was pumping. As you walk into the club, the bar will be to the left, small but friendly. A dance flloor sits in the center of the room, with seating around the stage.

The one thing about clubs like this is that the owners and the dancers do seem to be more down to earth, friendly, and welcoming of all types of foreigners. If you're into experienced Filipino MILF's who can give you a good time, then this is the place. You won't find too many hot 18 or 19 year olders on stage like you will at other larger clubs. However, the Alaska Club is always a nice little bar to sit down, have a drink and relax on your jaunt up and down Fields Avenue.

Bar Girls Dancing in the Alaska Club