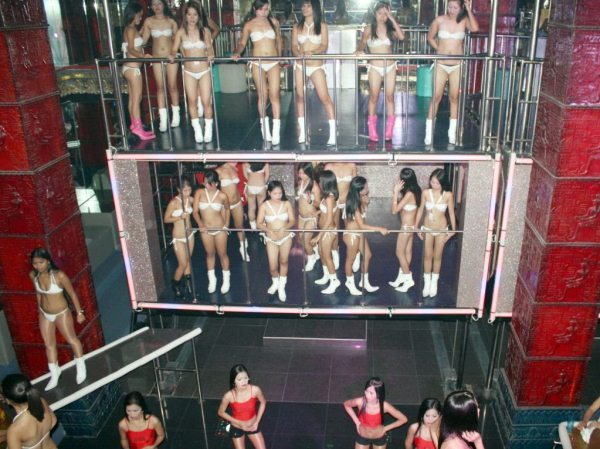 These are the Showgirls of the Golden Nile performing nightly!

Golden Nile A-Gogo Bar
East End of Fields Avenue
Angeles City, Philippines

website: http://www.GoldenNileBar.ph/
The Golden Nile is a huge A-GoGo bar built on the second floor of a building on the east end of Fields Avenue in Angeles City, Philippines. Opened a couple years ago, this club is one of the hotter places to frequent, as the club itself is a great club to party in, and the bargirls are "oh so sweet".

The owners of the Blue Nile, also own this club, so you can expect only the best in customer service (including the bargirls) and the environment. Golden Nile is nestled right among its other sister bars, Blue Nile and Nero's Forum which gives you fast access from one club to the next. Golden Nile, along with its counterparts, are all "high end" clubs. The barfines are a bit higher, 2000p versus 1000p at smaller bikinibars on the strip. For the extra $20, you'll find some hot Filipina pussy to fuck all night long.

The Golden Nile is upstairs from the street level, as you'll have to take either stairs or an elevator to get there. The stage is relatively small, with two levels, but the action on the stage is great. It kind of feels like an old GoGo club style, but multiple stages and multiple levels of girls. The club has regular "Bargirls" dancers like most other clubs, and then they have Showgirls who do some group dancing during sets.

All girls are game, including the cute waitresses, but you may have to pay more for their services. Even the showgirls are game, and with bodies that dance all night long, these girls can be alot of fun in the sack. I met a sex traveller from Germany, who told me that one of the waitresses came back to his hotel room every night for sex, and he didn't pay her a dime. While she was out working at the club, he was around Angeles City whoring it up. At night, she would show up back at his hotel room like clock work. This is the kind of shit that happens in Angeles City.


Golden Nile Bargirl Carla Fucks Sex Tourist