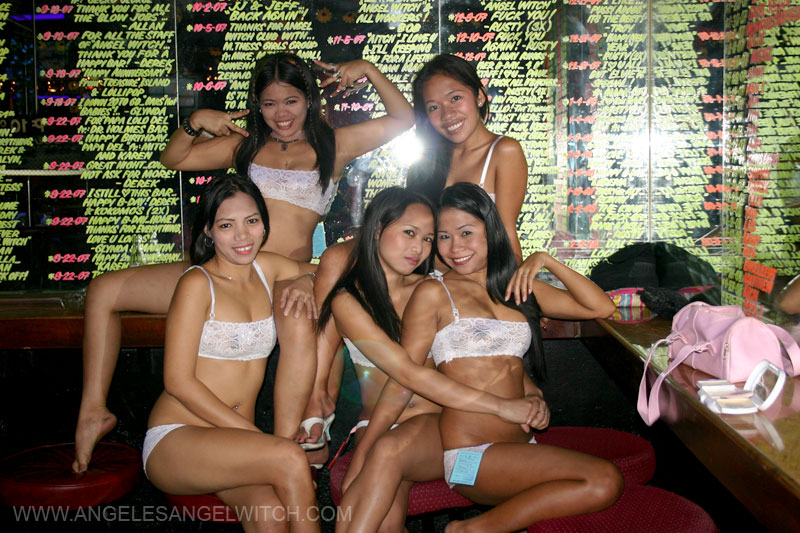 Some nightime fun inside the Angel Witch Bar!

Angel Witch Bar
East End of Fields Avenue
Angeles City, Philippines

website: http://www.AngelesAngelWitch.com/
Nestled among other bars like Bar Hopping, Butterfly Bar, and the Roadhouse Bar is a medium sized tradional club called Angel Witch. Previous bar names to occupy this space include Private Dancer and Illusions. It's your common bar layout, with a stage along one side of the bar, and seating to the other side. You can pull up a stool right next to the stage to get a "Bird's Eye View" of the bargirl/dancer action. The club has it's compliment of cute Filipina bargirls dancing on stage during the evening. Girls will grace the stage in two shifts, with regular dance routines performed for some added entertainment. Food is also available from down the street - Kokomo's, which is pretty nice food. If you're into billiards, the club has a pool table to occupy your time.

This is a great club to go have a cheap drink and relax, while you plan your attack on the rest of Angeles City. If you ask most people about this club, they like it. Nearly 64% of those recipients polled said that they rate this club ABOVE AVERAGE - Four Stars. It's a drinking man's kind of club, and more traditional in style. If you're into FLAIR and HIGH END, this is not the place. However, we can recommend this club, because so many other patrons love the club and continue to go back. You'll be sure to find a cute bargirl on stage to have a drink and possibly barfine. There are lots of girls on stage during the evening, and the place has some nice BAR energy that keeps patrons coming back for more.


Angel Witch Dancers on Stage