Makati A-gogo bar
WowWowWow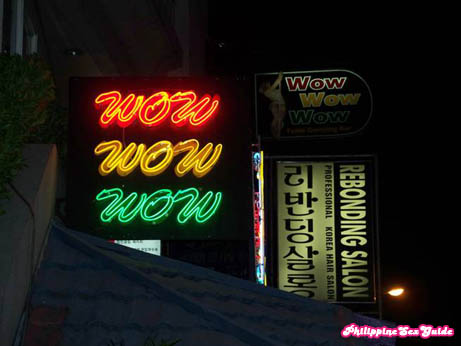 A picture of the small little sign hanging outside this wild club on the far end of P.Burgos Street – Makati.
WowWowWow
P. Burgos Street
Makati City, Philippines


Updated July 2010:
Located at the lonely end of P. Burgos Street, across the street from Jools Nightclub is a small little club that will literally "Blow" your mind, as well as other things. All we can say is WowWowWow, as the action in this club is on the extreme naughty end of the spectrum. You'll need to visit the club for yourself, so you can give your first hand opinion about the club.

The club is dark, with two different levels. The bottom level has the bar to the left, near the entrance, and then it goes up a few steps to the back right of the club. Both levels have dance floors and tables where the girls get on the tables and dance. There are a couple small stages scattered throughout the club, where most of the girls will dance. If you call a girl over to dance for you, and buy her a ladies drink, you'll get the ride of your life. These girls know how to lap dance.

Better yet, there are small curtained seating areas off to the sides. You can go back to these spots for 1500p and the girl is yours for the taking. We saw a Japanese guy go back with 2 sexy bargirsl, and they took care of him right there in the club. Of course, we didn't actually see it, but with all the rustling going on behind the curtain, something other than talking was going on.

If you're up for a quickie, drink that is, and possibly something more, than stop by this club, as the girls are hot, horny and out of this world wild behind the curtains.
Philippine sex Club