Makati A-gogo bar
Ringside Bikini Bar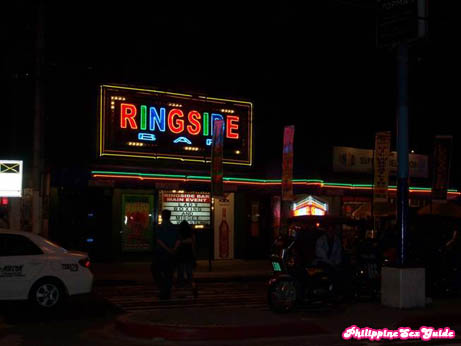 Ringside Bar is host to midget wrestling and bargirl wrestling matches on weekend nights.
Ringside Bikini Bar
Corner of P. Burgos and Kalayaan Avenue
Makati City, Philippines

Other reviews: Click here
Updated February 2009:
The Ring Side is a great concept, and is one of those bars you've got to visit while in the Red Light District of Makati, Philippines. The Ring Side attracts not only your Bikini Bargirl Loving customers, but also Philippine movie stars and celebrity's. The fun in this club is the weekend midget wrestling and bargirl wrestling matches that attract all types. The place gets packed, and it's truly a fun place to hang out. The 2008 World Pole Dancing champion performs here as well, and there are a lot of Bargirls who work the club as well.

The quality of the girls at the Ring Side is so-so. There are not a lot of stunners here, but more province girls. You'll find mostly 5's and 6's. But still, it's a pretty fun bar with lots of action when the girls are wrestling in the ring.

The bar is located near StarDust, and Montana Club at the corner of P. Burgos Street and Kalayann Avenue, and you will not miss the rectangular multi-color sign that displays Ringside Bar on it.
Philippine sex Club