Makati A-gogo bar
Stardust Makati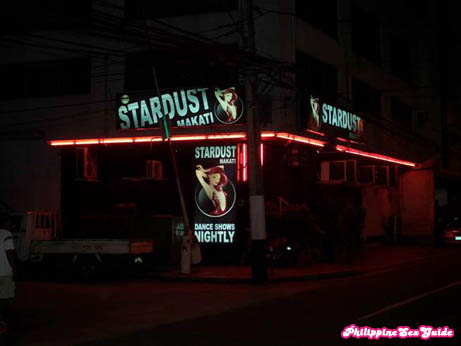 The Stardust Makati is open for business once again and better than ever!
Stardust Makati
Kalayaan Avenue
Makati City, Philippines
website: http://www.stardust.ph
Updated October 2010:
Makati, is the nicest most expensive city in the Philippines. It's the business district of Manila province complete with five star hotels and huge malls. At night, about a mile from the hotel area of Makati is the fun filled P. Burgos Street, with about 40 plus gogo bars.

Bars like Stardust line P. Burgos Street, a very well known Rue in the Philippines, with more pussy in a quarter mile stretch than you can imagine. These clubs are very nice clubs. You won't see many province girls here, as Manila or Makati area girls seem to be more prevalent in these clubs. Prices in Makati are higher than those clubs you will find in Angeles City. A barfine will set you back around 3000p at most clubs, with tips expected from the bargirls. All in all, about $125 will get you a girlfriend for the night.

The Stardust has been around for quite some time as one of Makati's premier gogo clubs. It is located just off of P. Burgos Street on Kalayaan AvenueThe sign that says "Stardust" cannot be missed and the club has been redone on the inside to attract upper ended customers. The new design has lots of room, and as always, may beautiful bar girls. If you've been inside the club, it was usually pretty dark, and couldn't see much. It's got two floors, an upper balcony that you can look down on the activity below. It's also got a nice private room, where some short time fun can occur.

All in all, there are always some sexy bar girls ready for barfine at Stardust. The prices on drinks range around the 170p mark, but you can drink for alot less before 9:00pm - when happy hour expires.
Philippine sex Club