Makati A-gogo bar
PussyCats Nightclub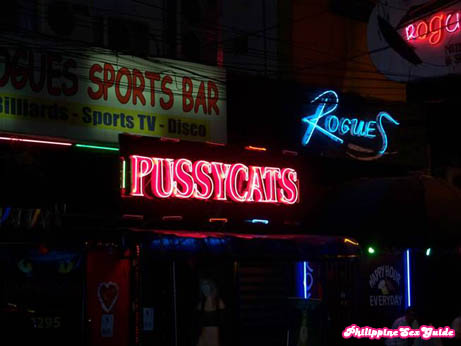 PussyCats Nightclub in Makati, Philippines is a great place to meet sexy bargirls and have a good time!
PussyCats Nightclub
P. Burgos Street
Makati City, Philippines


Updated February 2009:
PussyCats is a relatively new club, sitting below Rogues Sports Bar, and next to the Hollywood Bar P. Burgos Street in Makati, Philippines. It's a very basic club, with tables, stools and a dance stage in the corner of the bar. But the action is hot, and the bargirls are very sexy. Whenever you have hot young Pinay models grinding their hips on stage in sexy glamour outfits, you're in for a great night. The dancers wear sexy sequin dresses, which have got to cost a lot. The dresses make the girls look even sexier than they already are. Bargirls are very approachable here with not attitudes. If you barfine a beauty from this club, you'll be in for a very pleasant evening.

The barfine is a reasonable 1750p with ladies drinks and customer drinks at a very good price. We highly recommend this club, because it has some really cute bargirls and dancers. The talent was in the 7's to 8's range, and the price is very reasonable. Check out this bar on your next stop in the Philippines.
Philippine sex Club