Makati A-gogo bar
Rascals Nightclub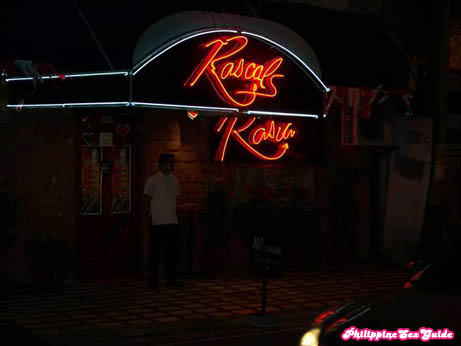 A picture of Rascals Nightclub in Makati , Philippines just after nightfall.
Rascals Nightclub
P. Burgos Street
Makati City, Philippines


Updated February 2009:
Rascals is a age old club that has sat at the corner of P. Burgos Street right across from the Oxford Hotel. IT's been there for ages. This club is small, fun, and along the lines of your traditional bikini bar of yore. The club has private back booths, where you can cozy up with any of the 40 or so girls, daytime or nighttime. Yes, this club is open during the day, around noon, with your working mom's coming in to make some money. You ask, can you barfine during the day. Well, at Rascals you can, however, most of your business guys, just go upstairs with the models to a private room, for some short time.

The club interior is nice, dark, but well lit on the stage so you can see the girls dancing. It's really a nice place to relax and have a drink with cute bargirls. This is one of those old standard clubs, that you have to have a beer in when you visit P. Burgos Street .
Philippine sex Club