Makati A-gogo bar
The Bronx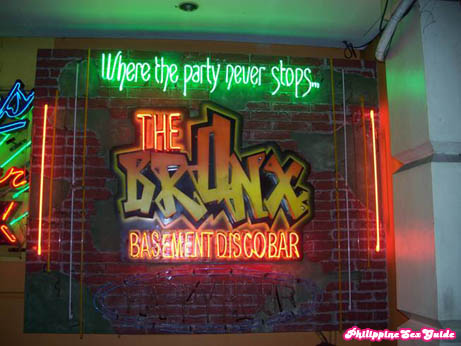 The Bronx
P. Burgos Street
Makati City, Philippines



Updated July 2010:

The Bronx was opened back in 2007 and has since then become one of the premier pussy spots in Makati, Philippines. This club has hot hot hot Filipino women. You won't find you're ordinary 18 year old here, but sexy Philippine models with full bodied figures – tits, ass and sexy bodies. The only catch, is that this club is ultra expensive. It should be, as they actually have the hull of an old helicopter inside the bar, and some other props and items that had to have cost this club so money.

The club is located in a basement below other clubs in the heart of P. Burgos Street. It's actually located below Mirros Club, which is right next to Papillion and a few doors down from Bottoms Bar. Right across the street is Bar Bandido, so you are right in the action. You walk down steps to get into the club. It's deep down below, so the first set of steps takes you to a balcony viewing area, where you can see the dance floor and stage below. There is a mini balcony here, with a small dance table, where 3 or 4 girls will dance. There are some couches there, where you can get comfortable to drink and watch the girls dance.

If you keep going down the stairs you'll end up on the dance floor, with a stage to the back of the club, and a bar located underneath the balcony in the front of the club. The stage always has 15 or 20 girls dancing on it, with the 2nd shift of girls scattered at the tables sitting or dancing on the dance floor. We got to the club around 9:00pm, and almost every one of the girls was gorgeous, full figured and sexy.

Buying a Ladies Drink is expensive. It will cost you 450p, which is around $8.00 to $10.00 US, which is ultra expensive. The barfine is 3000p, which is in line with most other bars in the area, but I would assume some of these models will want a nice tip if you barfine them for the night. Make sure you are getting the girl for the entire night, because some might pull the old – 3000p is only for short time. Just make sure you tell the girl you'll tip her well, maybe 2000p to 2500p and she'll stay with you long time.

We highly recommend this bar for the quality of the club, atmosphere and of course, the gorgeous bargirls that they have in their line up. It may be a bit pricey, but everything in Makati is expensive.
Philippine sex Club