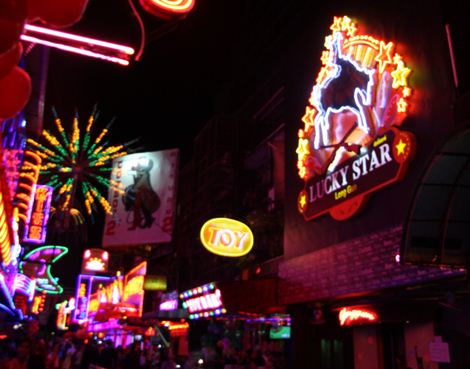 Long Gun Bar
Soi Cowboy
Sukhumvit Road
Bangkok, Thailand



One of the oldest and more successful a-gogo bars in Soi Cowboy is the Long Gun Bar, aka - Lucky Star Bar. A fairly small bar, compared to others, the Long Gun has constantly been one of the favorite bars for tourists on the prowl for cheap Thai pussy. With beautiful waitresses, fully nude dancers, and bargirls that don't pester you for drinks, this bar is a favorite hang out for most foreigners in search of exotic Thai pussy.

The stage is quite small, allowing only one model at a time grace the stage in an exotic strip show. But as mentioned, the dancers do get completely naked. Nightly SEX SHOWS are performed,where you will see performers shooting things out of their pussies (banana tricks, ping pong balls, bottle opening and darts at balloons). There are lesbian shows as well that are always nice to watch. There is also a great dance show called SEXOTIC that performs just after 10pm nightly.

The bar recently went through some renovations, replacing all upholstery on the couches, better lighting and a bathroom upgrade that was severely needed. There is no smoking in the club, which is nice. This club used to be filled with smoke and unbearable on the eye's by the end of the evening.

The Long Gun Bar has no cover charge, and drink prices seem to be inline with the other clubs in the area. A beer will set you back 130baht and a ladies drink will cost you 160baht. Like most other clubs, 600baht is the barfine, but that doesn't include the 2 ladies drinks you need to get her out of the club. So, the barfine is around 900baht altogether. The club opens at 7:00pm and closes just after 2:00am nightly.