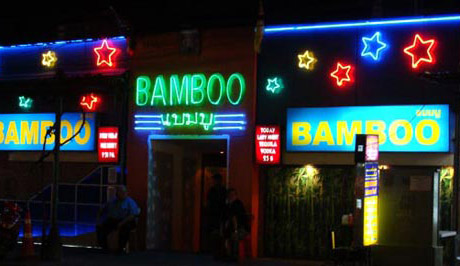 Bamboo Beer Bar
71/1 Sukhumvit Soi 3, Nana Nua
Opposite Grace Hote
Bangkok, Thailand 10110
phone: +66 2 253 2462

website: www.bamboobeerbar.com or http://www.bamboopub.com/


The largest beer bar on Sukhumvit Soi 3 is the Bamboo Beer Bar located across from the Grace Hotel. If you're staying down at the JW Marriott, the club is right acround the corner, and a great place to get some cheap food and drinks, compared to the upscale hotel. With 7 pool tables, live music and some great food, this club provides a different change of pace than the other Nana clubs. The club stays open late, with an all night Restaurant for those who want a late night feast. If you're looking to wind down after a long night of pussy hunting, then this club is a great place to do so.

The club tends to attract a different crowd then the normal Soi 4 Nana scene. You'll find more travellers looking to get a snack then pick up women at the club. The great thing about this place is the price of their cocktails. Happy hour is everyday from 10am to 7pm. Drinks at these times are only 70 baht. It even gets better, with drinks going down to an amazing 50 Baht between 7pm and 9pm. You're not going to find many places with the cost level this low.

There are some waitresses and GRO's at the club you can party with and take home if you want, but it seems to be a more low key drinking club then anything else. The Bamboo Beer Bar prides itself on its food and bands, and not its women.



Getting There: Take a taxi to Sukhumvit Soi 3 and look for Bamboo bar opposite the Grace Hotel. Or take the BTS to Nana station and walk towards Sukhumvit Soi 3 and look for Bamboo Bar on the left.